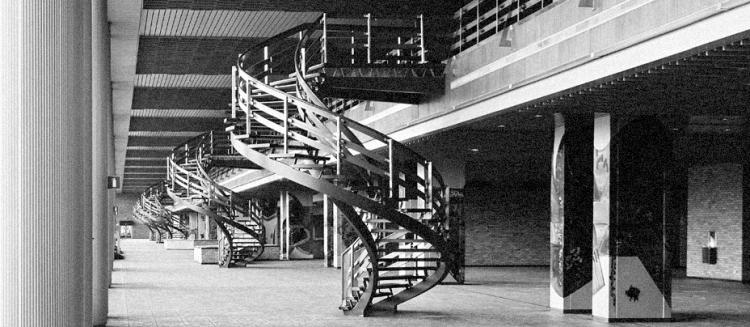 The architecture of the 1950s and 1960s is today reaching a critical point. Little by little, the buildings are deteriorating or disappearing. The new materials, reputed at the time to be permanent, have poor resistance to the passage of time. However, this architecture's worst enemy still remains the indifference, indeed the contempt, that it continues to arouse among the public. This is due, in particular, to the banality of a large part of the production of the period, in which the examples of quality become lost.
As elsewhere in Europe, a policy for the protection of the major works of the post-war period is being organised in the Brussels region. The goodwill of owners who are aware of the quality of their asset also constitutes an effective driver for the protection of the architecture. The development of a realisation of the value of these constructions is urgently needed in order to preserve the fragile balance on which their appeal rests.
Canteen of the State Administrative Centre, demolished in 2007.